Falling in love with wine is a slippery slope. It starts with a little sip and, in the blink of an eye, you're suddenly tucking away several bottles, saving them for special occasions.
Of course, with every growing wine collection comes the need for proper storage. This is why we've compiled a list of the best silent wine coolers!
at a glance: Our Top 5 Silent Wine Coolers
The Enemies of Wine Storage
Everyone knows that wine gets better with age but, unfortunately, that's where a lot of wine knowledge stops. Truth is age isn't all that matters— storage plays a big role too.
To have a finely aged bottle, it has to be stored in certain conditions. So many factors can mess with wine, not all of which are publicly known. Here are some wine enemies to look out for that can seriously damage your wine that's kept in storage:
Don't Underestimate The Vibrations
It's hard to believe but constant vibrations can disrupt the wine by disturbing the sediment and changing the flavor in unexpected ways. Vibrations can also interrupt some necessary chemical reactions, specifically the reaction between tartaric and succinic acids.
These are acids that react to each other to form esters, which give the wine a sweet and fruity aroma and flavor. Interrupting this process can result in a mixture that is either too dull or too sweet.
Other Enemies Are Heat And Ultraviolet (UV) Rays
These are closely linked but you don't need one to have the other, and they both mess with the wine in different ways.
Heat accelerates the wine's aging process, especially if exposed over long periods of time. The wine starts cooking when temperatures reach around 70ºF, with optimal storage temperature conditions at around 52ºF – 58ºF.
When a wine cooks, the flavor turns more acidic than fruity, and not in a pleasant way! To help you visualize how easy it is to mess with wine, simply leaving it in the car for an afternoon or exposing it to fluctuating kitchen temperatures can sabotage the flavor.
In the same manner, UV light can easily destroy the tannins in a wine after long exposure. Tannins affect wine texture and killing it will cause the wine to feel rougher and taste tangier.
Improper Humidity Can Also Cause Damage
The more dry the storage conditions are, the more it can compromise the wine. Natural corks can shrink or dry out, letting in air and odors that can damage the aging process and overall flavor.
To avoid all of that damage, it's important to keep your wine in a cool and controlled storage area. The traditional and ideal way is to keep them in an underground wine cellar but, honestly, who has the time, space, or money?
The next best option is something that can imitate it as closely as possible. This is where wine coolers come in.
Wine Cooler vs. Standard Fridge
Unfortunately, most of us hear 'wine cooler' and immediately think that we can be clever and just use our regular kitchen fridge. While I love money-saving hacks as much as anyone else, the truth is that storing your wine in a standard fridge will just cost you more in the long run.
Yes, that's right. Even if they're both fridges and are similar in theory, they can't do the same job.
Standard refrigerators are amazing for veggies, leftovers, and other perishables but it misses the mark for wine. This is simply because your home fridge is there to keep things as cold as possible and to suck out all moisture. While that's great news for leftover takeout, it sucks for wine.
As mentioned, wine needs to be kept in very specific temperature and humidity conditions. Too much of a chill or too little moisture and your wine is compromised. To lay it out, this is what will happen if you store your wine in your home fridge.
First, you pop the wine in the fridge. It's okay at first but after a while, all the strong vibrations, temperature fluctuations from the frequent opening and closing of the fridge door, and the shuffling around of food items will take its toll on the wine.
The vibrations will do its work on the wine's flavor, while the temperature works on drying out the cork. When it cracks, the odors from the food kept in the fridge will seep in and the wine will start absorbing these scents.
When you try it, most likely it won't taste the way you expected. However, this would go a completely different way if you invest in a wine cooler!
Wine coolers are built to sustain wine. There's much to consider in a cooler but, at the end of the day, these are cooling storage units designed with wine in mind.
Are Wine Coolers for Everyone?
The simple answer is no, but there's definitely a wine cooler for every wine lover.
Many wine lovers live their lives without a cooler, regardless of how long they've been in the game. It's less about how long they've liked wine and more about their attitude and plans with it. To know if they're for you, you'll have to consider wine capacity, cooler systems, temperature zones, and if it's designed to be built-in to your cabinetry.
Wine capacity is important to note in order to best fit your current amount of wine bottles as well as your future wine plans. If you're uninterested in aging wine and storing a bulk load of bottles, what's the point in purchasing a 100+ wine capacity cellar? Likewise, if you have a humble but growing collection that you regularly consume, it would be smarter to invest in a cooler that can store more than 10 but less than 30, since there is frequent turnover.
Cooling systems are also important since they affect the functionality of a cooler and could be a source of noise. Who wants to hear a fridge from across a large room? Typically, thermoelectric cooling systems run quieter and with fewer vibrations but technology has allowed compressor systems to run silently too.
Consider also your city's climate. If it runs hot or if you plan to place it in a warm area, a thermoelectric system won't work so well at regulating the set temperature.
You'll also need to factor in your plans for the wine. If you plan on storing it for the long term, a compressor cooling system might be less than ideal since it tends to have more vibrations.
Next are temperature zones. Wine coolers can come in single or dual zones. Dual zones, or multi-zone coolers, have two temperature settings to be able to cool the whites and reds separately at their recommended temperatures.
Lastly, wine coolers can be built-in or freestanding units. It's important because freestanding units need more breathing room to cool down properly. If you use a freestanding unit as a built-in, it could overheat itself.
Quick Overview: Our Top Picks for Silent Wine Coolers
Some Silent Wine Coolers to Choose From
1. Cuisinart 8 Bottle Private Reserve Wine Cellar
Pros
Space-saving and easily portable
Great for small and large collections alike
Silent cooling system
Great customer service
Lasts for years and is very durable
Cons
Racks are too close together to fit larger bottles
Not deep enough to hold wine with a stopper
This Cuisinart is an amazing find that can hold up to eight bottles of 750 ml wine on contoured steel wire racks. This comes in a compact size and can easily be placed wherever you wish. Thanks to its thermoelectric cooling system, it's a super silent cooler that allows for lower energy consumption during use.
It also looks great for display. It comes with an exterior steel trim and an adjustable soft light from within. Their design also features an electronic LED touchpad display to set the temperature anywhere between 39ºF – 68ºF. This lends the unit a chic look and feel.
This cellar, thanks to its size and capacity, would be great for a lot of people in many circumstances, both from a storage and a consumption angle.
First off, this wine cellar might be great for you if you're starting to collect! The eight-bottle capacity is just enough for someone still trying things out and wanting to see where their collection will take them. Down the line, if you opt to expand the collection, this can still serve you well in your consumption habits.
For those with larger wine collections, this may still serve a purpose for you. Since it is so small, it can easily fit in any room and be used to help you differentiate the ready wine from the wine that's saved for special occasions or is still aging.
Separating the wine that's ready for drinking and keeping it in this small unit helps you make sure that no wine goes past its prime, and will make wine retrieval and organization more convenient.
On the other hand, this would still be a great choice if you have a small collection of aging wines. Keeping wine that's ready for consumption together with aging wine might not be the best decision.
If you open the cooler door frequently to grab wine to drink, this means that the temperature fluctuates often and that cold air escapes quickly. Keeping aging wine in this unit would help regulate temperatures, much like traditional wine cellars.
What if you're someone who buys wine often but consumes it rather quickly? Amazingly, this might still be a practical choice for your frequently moving wine selection.
Since your collection doesn't add up often, you won't really be able to fill large coolers. A compact wine cooler such as this offers storage, chilling, and easy access for those of us who'd rather drink than cultivate a wine hoard.
This may be a tiny unit but it offers many advantages to many kinds of consumers.
2. Nutrichef 18 Bottle Freestanding Wine Cooler PKCWC18
Pros
LED touchscreen controls
Standing bottle display
Cooling temperature ranges from 41ºF – 61ºF
Quiet compressor fan operation
Alert customer service
Cons
Slow initial cooling time
The unit is affected by outside temperature conditions
This Nutrichef wine cooler runs on a compressor system but, even without thermoelectricity, it still manages to run super silently. It's also a freestanding wine cooler, meaning that you'll be able to place it wherever.
Noticeably, what differentiates this product from others on the list is the standing bottle display in the bottom row. Here, you'll be able to display three special bottles that you were proud to acquire and also allows for the storage of 750 ml bottles with irregular shapes. Above it are four contoured steel wire racks that can, collectively, hold 15 bottles laid on its side.
It also has an integrated LED light inside to help with display purposes. It was designed to have a stainless steel door frame with an airtight reinforced foggy glass door.
This unit also comes with touchscreen temperature controls which allows it to have a modern look that can integrate well with most house layouts.
The temperature control panel allows the unit to be set as cold as 41ºF to 61ºF. While this is what the settings have, the fan compressor system actually allows the unit to get down to even cooler temperatures.
Unfortunately, it does take a while to get to this on its initial run. Another downside is that this chill can be affected by climate and room conditions. It can warm up depending on the season, the temperature of the room, or by the warmth of nearby appliances.
This would be great for you if you have a standard-sized wine collection that you want to show off. There's no harm in taking pride in the bottles you've collected and, with Nutrichef's design, it can match many household motifs and would be a sleek addition to any room. If 18 bottles are too much for you, this model also comes in a 12-bottle capacity unit.
Additionally, if you encounter any problems with your unit, the NutriChef brand has great customer service and is known for completely replacing damaged units within the warranty period.
3. Wine Enthusiast VinoView 155-Bottle Wine Cellar
Pros
Can hold a wide variety of wine
Impressively displays your collection
Quick cooling system with temperatures dropping from 40ºF – 70ºF
Can be used as a built-in or as a freestanding cellar
Designed with state-of-the-art wire shelving
Quiet compressor fan operation
UV Protection in the glass door
Cons
High humidity conditions
LED light is bright and could be distracting
This large cellar by Wine Enthusiast can hold up to 155 Bordeaux-sized bottles. It's designed to store, protect, and display your wine, all at the same time! It can be set up as a built-in or as a freestanding cellar and can be ordered with doors hinged on the right or left side.
To do this, the wine cellar runs on a silent compression cooling system which can be set as low as 40ºF, with a temperature variance of 4º. They make it super easy to chill wine at the proper red and white storage temperature, and your whites will be ready to go as soon as it's pulled out. You'll be able to set this temperature using the simple LED buttons on the top part of the unit.
To hold the massive amount of wine, they use the impressive Blackwire VinoView Matrix Shelving, a kind of wire rack that can be easily pulled out without having to disrupt much of the neighboring wines. It's a space-saving feature and makes full use of all the space available in a unit.
It also features a double-pane UV-protected glass door, which can come in either stainless steel or a black trim edge for the frame. This door can also be locked for the security of your wine. Moreover, there is an LED light installed on either side of the unit to be able to chicly display and see your collection.
The shelving system is ingenious and unique and will allow you to select your wine simply and effectively. It also serves as a very dramatic feature in any room, which is sure to make a statement to any visitor.
Additionally, if you're not in your forever home yet, you don't have to commit to making it a built-in cooler if you choose to bring this along with you when you do move houses.
This won't be good for wine lovers who are only starting a collection. Simply said, this is best when you have already built a collection, and might still be building one. If you have any plans for collecting more than 100 wine bottles, this just might be perfect for you.
Wine Enthusiast means serious business with this model, and would definitely make the best impression on whoever sees it, whether they're a wine connoisseur or not.
This is definitely not a decision to make lightly but there is no question on the value this presents in the life of an avid wine collector.
4. Whynter WC-241DS 24 Bottle Dual Zone Touch Control Stainless Trim Wine Cooler
Pros
Dual temperature zones
Thermoelectric cooling system
Can fit up to 24 standard wine bottles
Great for long-term wine storage
Can retain cool temperatures even in a hot climate
Cons
Temperature controls have no child lock setting
No door lock
Narrow bottle slots
This Whynter wine cooler offers a dual-zone temperature setting for your reds and whites. It's a freestanding cooler that fits up to 24 standard 750 ml bottles, with 12 bottles able to fit in each zone.
These two zones also have separate temperature settings, with the upper zone fit for storing reds in 54ºF – 66ºF conditions. Whites can then be stored in cooler temperatures, ranging from 46ºF – 66ºF.
This feature allows your wine to be kept in optimal storage conditions, and you'll be able to pull it out and drink them right away, rather than having to wait for your reds too warm.
It also runs on thermoelectricity, making it much more energy-saving, even with dual zones. The thermoelectric cooling component also allows for fewer vibrations, meaning the sediment within your wine won't be as disturbed.
Inside, the wine will be stored on space-saving wire racks that can accommodate standard wine bottles. Unfortunately, if you need to store larger bottles, you might have to remove one rack for it to fit.
It's designed with a stainless steel glass door with a digital temperature control panel. This easily gives the unit a sleek look and feel. It also comes with an LED light for the upper zone.
This might be the one for you if you're a fan of both reds and whites and are particular about wine storage temperatures. It'll be even more suitable if you are storing the wine for the long term, or plan on aging wines.
The dual-zone feature makes a big difference in wine quality, and the thermoelectric cooling system allows minimal vibrations and no sound.
However, if you live in warmer climates or if the summertime heat gets really intense, this might not be the smartest option for you. That's because thermoelectric coolers like this don't do so well with warm surroundings, and it affects temperatures within the unit.
If the heat is not a problem, then the only thing left to look out for is children, if you have any. This unit does not come with a door lock nor a temperature panel child lock. But since it is a freestanding cooler, you will be able to place it anywhere, even somewhere high up out of reach for your little ones.
There are some possible setbacks to consider but it truly has the potential to satisfy lovers of both whites and reds and helps keep the wine in tip-top shape.
5. EuroCave Performance 59 Built-In Wine Cellar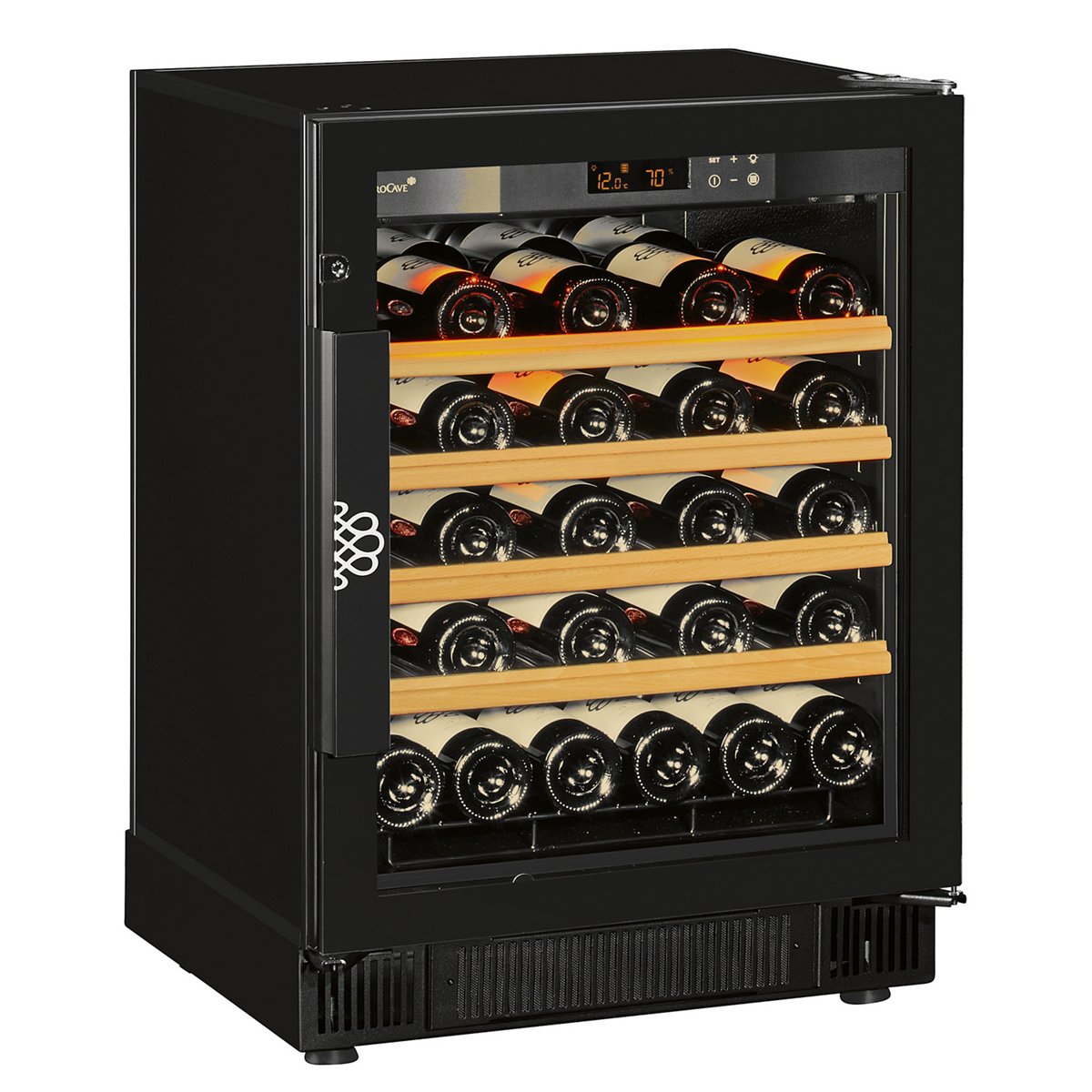 Pros
Offered in Single-Zone and Multi-Zone units
Can hold up to 54 standard bottles of 750 ml wine
Silent compressor cooling system
Classy wood finishes on shelving
Features are customizable
Long-term warranty for parts
Cons
On the higher end of the price spectrum
The instruction manual can be confusing
This EuroCave Performance 59 series wine cellar can hold 38 to 54 standard Bordeaux bottles, depending on the wine stacking. It runs on a compressor cooling system and has a lock to keep your wine secure.
It's a built-in cellar with French inspirations, great for under a kitchen counter or island. It's compact and, since it'll be there for a long time, its exterior design features are customizable to your design preferences.
It is offered in both single and multi-zone temperature controls, with different ranges for each zone. Single temperature units can be set from 41ºF – 68ºF and the dual-zone upper section ranges from 59ºF – 72ºF, with the lower zone going as low as 41ºF – 54ºF.
The wine is placed on four Main du Sommelier Rolling Shelves, which are basically steel black contoured shelves with beechwood front trimming, for a classy look. These shelves are also designed to help save up on space.
As mentioned previously, you'll be able to choose how the unit looks because EuroCave makes sure to give you options. If you want to display your collection, you can choose a full glass panel door.
If you prefer to be more lowkey, there's a solid door available as well. If neither of those is appealing, you could also opt for a custom door.
If you're someone with a sizable wine collection and want to keep your options close at hand, this might be something you'll love. This is chic and effortlessly stylish and is sure to enhance the style of any room it's built into.
This might be especially great for you if you're in your forever home. Since this is built-in, it will most likely stay in the home that you're in now. It's not an investment to make lightly and knowing how much longer you'll be staying where you are currently would be a good thing to consider. However, if you're living in a home that you want to increase the market value of, this cellar would be one way to do it.
It truly makes an impression on people and is made by one of the biggest names in wine storage. EuroCave invented the wine cabinet and has been innovating and creating wine storage solutions for years. They also have great customer service and warranty.
This is a serious investment that has great potential to improve the wine experience, be a luxurious addition, and increase the value of any home.
Best Silent Wine Coolers – Final Thoughts
Those were the five best silent wine coolers available on the market today. Each cooler has its share of strengths and weaknesses but one option trumps all others.
It might be surprising but the Cuisinart 8 Bottle Private Reserve Wine Cellar has come out on top in this round. It's because it's versatile, easy to use, great for display, sold at a great value, and is oh-so silent!
It's the most practical for casual wine drinkers and can serve a great purpose for those with large collections. Its compact size offers many advantages, and its silent cooling system allows you to place it anywhere.
Of course, the Cuisinart Wine Cellar is the most multi-functional but the others are exceptional in their own right too. The Wine Enthusiast VinoView Wine Cellar is great for large collections, while the EuroCave Performance 59 Built-In is ideal for value building.
The Whynter Wine Cooler would be great for long-term red and white wine storage, and the NutriChef Wine Cooler is a smart option for those who want to show off their collection.
When you do decide to purchase a wine cooler, be ready to experience wine on a whole new level!