When wine is on your mind, wine coolers should be too! Wine storage is an important part of the wine world and, of course, we'd only want the best for our wines, right?
Only durable and reliable coolers will do and, in the wine cooler game, few can do it like Allavino but some manage to! Now, the trouble is choosing the perfect one for your needs. So for your wine's sake, here are the best Allavino wine coolers— with five alternatives!
at a glance: The 5 Best Allavino Wine Coolers
All You Need to Know About Wine Coolers
Just in case you're not so familiar yet with the ins and outs of wine coolers, here's a simple guide that might help in your considerations.
One Of The Most Obvious Things To Consider First Is The Wine Cooler's Size And Capacity
Whether this is your first wine cooler or you've just outgrown the cooler you already have, think first on what your collection will look like within the next few years. The rule of thumb is to get a cooler that can fit 20% more than your current collection.
Temperature Zones Are Equally Important
Coolers can come with more than one cooling zone, which you can individually set the temperatures of. Single-zones are great for simple purposes and durability, while multi-zones are great for versatility and specific wine needs.
With Cooling Systems, It's Between A Compressor And A Thermoelectric System
These are similar but their differences are in the noise levels, energy usage, and the cooling power. Compressors are usually loud and use up lots of energy but they cool down reliably even. On the other hand, thermoelectric coolers are quiet and energy-efficient but are more finicky with temperature regulation as the surroundings get warmer.
With Wine Coolers, Design Is Both For Form And Function!
Smart designs maximize the cooler's overall potential through shelving, doors, and control settings. Great wine coolers can give clever storage and display solutions while still looking like a wine lover's fantasy fridge.
Lastly, Installation Is One More Thing To Note
Coolers can either be built-in or freestanding units. This is because cooling systems need room to breathe in order to work properly. Not following this could cost you.
Now that you know all this, what makes Allavino wine coolers so special?
What Gives Allavino Coolers The Edge?
Allavino is a wine storage expert known for its luxurious and unique designs. They've been around more than 20 years and, in that time, made a name for themselves in wine-drinking spheres as a reliable brand with out-of-the-box storage innovations.
They don't compromise on anything, both in technology and in design. Wine is a beautiful art so they understand that preserving wine is crucial and doing it in style isn't just a bonus— it's a must.
Allavino has moved forward these past two decades by constantly creating solutions to problems wine lovers didn't even know could be solved.
They truly shine through their three wine refrigerator series— their FlexCount, Vite, and Cascina Wine Fridge lines. They have another series, the Tru-Vino Series, which focuses on cooling technology rather than design.
Allavino Tru-Vino Cooling
After much research and careful design, Allavino was able to develop adaptive cooling technology with near-zero temperature fluctuations. Why is that amazing?
Typically, compressor coolers stop running after reaching the set temperature and turn on again when the temp has changed too much. This kind of on/off system means lots of fluctuations, which isn't the best for wine preservation. With thermoelectric systems, these can't really reach a consistent low temperature and are easily affected by surrounding conditions.
The beauty behind the Tru-Vino Compressor Cooling is that they've succeeded at creating adaptive technology that keeps internal temperatures constant. This means that the Tru-Vino tech will continue to dispense cool air even when the desired temperature is reached but at a slower rate. When the temperature starts to change, cool air is released more quickly again.
This cooling technology can be used in FlexCount, Vite, and Cascina Wine Cooler Series designs. However, even models that don't use Tru-Vino technology will still be able to work consistently and reliably.
Allavino Wine Cooler Series
As previously stated, Allavino has three main wine series. These vary by design and function and aim to meet all needs.
First off are FlexCount Wine Coolers, which are unique in their ability to house all kinds of wine bottles, without decreasing the cooler's capacity!
Oftentimes, capacity is based on standard 750ml wine bottles, and storing larger bottles will either make the bottles scratch up against one another or decrease the maximum capacity. Somehow, through FlexCount, this shelving limitation no longer exists in Allavino coolers.
Their Vite Series is designed with serious wine collectors in mind, with collections reaching the hundreds. These coolers are for highly diverse collections with specific temperatures, humidity, storage, and protection needs.
Allavino's Cascina series is their answer for smaller collections or limited spaces. Sadly, these aren't available anymore on their website and with their partner sellers.
Quick Overview: Our Top Picks for Allavino Wine Coolers
Allavino Wine Cooler Reviews
1. FlexCount II Tru-Vino VSWR36-2BF20 Wine Refrigerator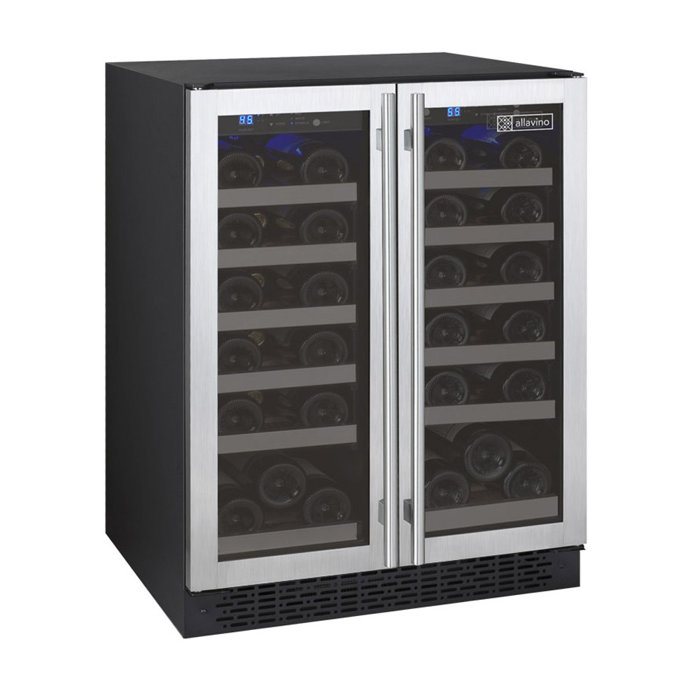 This Allavino cooler is a stylish dual-zone fridge that can be home to a 36-bottle collection. This fridge can be built into your cabinetry and counters or it can be used as a freestanding unit.
This one is equipped with FlexCount shelving, allowing you to fit a good variety of wine without having to compromise on its capacity. It's also backed by Tru-Vino cooling technology, meaning you'll be able to enjoy consistent temperatures too. This unit can go as low as 40ºF, with a maximum set temperature at 65ºF.
There are two cooling zones, with a door for each zone. Having two doors helps prevent frequent internal temperature fluctuations each time the door is opened to pull out a bottle. Each zone has a digital control panel that controls the temperature as well as the light. The temperature controls are easily adjustable, with an option for Fahrenheit or Celsius readings, as well as pre-set temperature settings for reds, whites, and sparkling wines.
It has a sleek black and stainless steel design that can both showcase wine very nicely and would be able to seamlessly blend into many modern room designs. Its size can also fit perfectly underneath a standard kitchen counter, and it has a front-facing vent that makes it safe to use as a built-in or as a freestanding cooler.
This might be an amazing addition for your home if you have a modest-sized wine collection with lots of variety, and aren't planning to grow it too big. Whether you like whites and reds, or if your wine preferences have bottles which are bigger than the standard.
However, you should know that it does emit a low hum, similar to the sound an air conditioner makes. This hum easily fades into ambient sound unless you're sensitive to it. If you're planning to place this somewhere far from common areas then this isn't a problem at all. But if you were planning to place it in the kitchen or in the family den, and you or someone in your home is sensitive to low sounds, then this might be something to pass on.
Pros
FlexCount II Shelving
Tru-Vino Compressor Cooling
Can be built-in or freestanding
Manual locking system
Clear digital display
Takes up less space thanks to its narrow design
Cons
Operates with a slight hum
Not compact enough to be a countertop cooler
Not convinced? Try this!
If you're not sold on this Allavino unit, check out the Kalamera 46 Bottle Dual-Zone Wine Refrigerator!
This is a durable wine cooler that runs super silently even with its compressor cooling system. It can hold 46 bottles, which is 10 bottles more than the Allavino and is handy to have as a built-in or as a freestanding unit. However, this has very narrow racks and has less storage space for the wines on the upper zone than for the lower zone.
2. FlexCount II Tru-Vino VSWR56-1BR20 Wine Refrigerator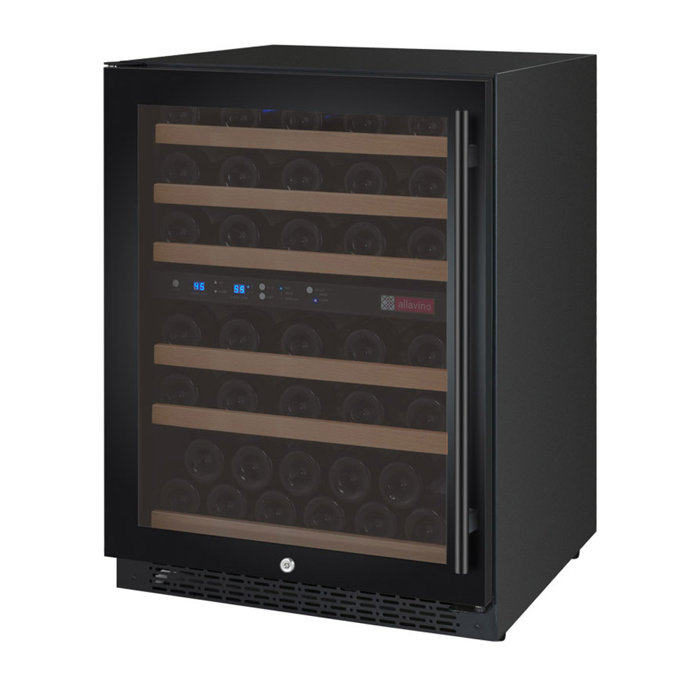 This cooler, similar to the previous one, is a FlexCount Tru-Vino wine cooler. It has a lot of similar features and is powered by the same technology, but this one is a single-zone cooler with a larger capacity.
This cooler can comfortably house 56 wine bottles of different varieties and sizes and is still easy to place anywhere in your home. This can be installed as a built-in feature of your home or it can be used as a freestanding unit, thanks to its front-facing ventilation.
It's a single-zone unit powered by Tru-Vino. This means that this powerful technology will be doing less work, for more reliable and consistent cooling. This also helps save energy, since it only needs to run for one temperature zone.
It can come in black or in stainless steel, both of which manage to look stylish. This luxurious design heightens the room's overall appeal and is a great way to display any moderately-sized wine collection. It's also lockable, which means you can be sure that your precious collection is safe from any unwanted drinkers.
This might be the one for you if you're someone who's loyal to a specific type of wine, be it reds, whites, or sparkling only. Since there's only one zone, there's no need to fuss with other temperature control settings.
This might also be great for lovers of all kinds of wine, with big collections for each kind. Dual-zone coolers aren't for everyone, and some would rather buy two single-zone coolers than one dual-zone, since it allows them more freedom for placement, and will be easier for any possible repairs.
However, since this is a single-zone unit, those with average-sized collections who love all kinds of wine might not be fit for this. Different kinds of wine need to be stored in different temperatures and, if you're not looking to grow your overall collection more than around 50, other dual or multi-zone coolers might be a better choice for your wine varieties. Additionally, similar to the previous Allavino unit, this one emits a low hum.
Pros
FlexCount II Shelving
Tru-Vino Compressor Cooling
56 Bottle wine capacity
Can be built-in or freestanding
Manual locking system
Energy-saving
Clear digital display
Cons
Operates with a slight hum
Not convinced? Try this!
If you want to see something else but with similar features, a good alternative would be the EuroCave Performance 59 Wine Cellar. This one can house around 38-54 wine bottles, a number which depends on the bottle size and stacking.
EuroCave invented the wine cabinet and has since been perfecting it. This unit can be a built-in or a freestanding wine cooler and runs super silently. It's also available as a single or multi-zone cooler, which allows for a lot of variety. But do note that this is pricier and that its dual-zone variant performs weaker.
3. FlexCount II Tru-Vino VSWR30-1SL20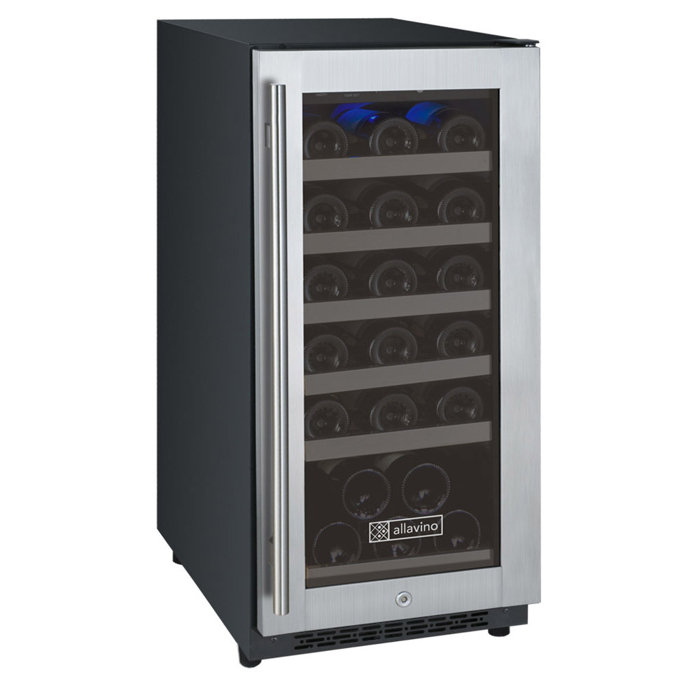 This is another power mash-up of FlexCount shelving with Tru-Vino technology. This is a winning combination wrapped up in a more compact cooling unit.
This one can be home to 30 wine bottles and can either be a freestanding or a built-in unit. The unique thing about this one is that it's space-saving too!
This is only 15" wide, making it much narrower than the previous ones, and allows more wiggle room in where you can place it. Though it's narrow, it's still able to house a good-sized collection, and would enhance the aesthetic of any room it's installed into.
It has six FlexCount shelves, with the bottom one having a taller room allowance than the rest. This is done for your thicker bottles so that you'll still be able to store them together with the others in your collection. It's also a single-zone unit, meaning that Tru-Vino technology won't have to work overtime in order to maintain the set temperature.
However, you should know that this wine cooler's capacity is drastically reduced if you only store thicker wine bottles within. This shelving is great for a wide variety of bottles, allowing for a mix of narrow and wide bottles to fit together nicely. Only sticking to wide bottles will quickly eat up the available space inside.
This might be great for starter collectors looking for a reliable cooler for their growing wine horde. It's a moderately sized wine cooler with shelving that allows for a lot of variety! If you're testing out different vineyards and different kinds of wine, this could be a great place to keep them. If you consume them quickly and only plan on using this to store wine at serving temperatures for a short time, then the single-zone shouldn't really be a problem.
But it should be said that, while this is compact compared to other Allavino models, this is still quite tall and wouldn't work if you're looking for a countertop cooler, especially with the hum it creates. Likewise, if 30 bottles is way more than you need or plan on collecting, there are more compact wine coolers out there.
Pros
FlexCount II Shelving
Tru-Vino Compressor Cooling
Can be built-in or freestanding
Manual locking system
Clear digital display
Takes up less space thanks to its narrow design
Cons
Operates with a hum
Not compact enough to be a countertop cooler
Not convinced? Try this!
If you belong to the group of people who don't plan on building a collection that reaches 30 bottles, then a smaller countertop cooler might be better. The NutriChef 18 Bottle Countertop Wine Cooler might be what you're looking for.
This is a compact cooler that can hold 18 bottles, three of which can be stored upright rather than on its side. This is great for any open bottles of wine you might have, or for any of the thicker bottles. It also runs super silently thanks to its quiet compressor cooling system, making it easy to place even in the quietest of offices. However, the racks for this unit are contoured which makes for less versatility than the Allavino counterpart.
5. Vite II Tru-Vino YHWR99-2SR20 Wine Refrigerator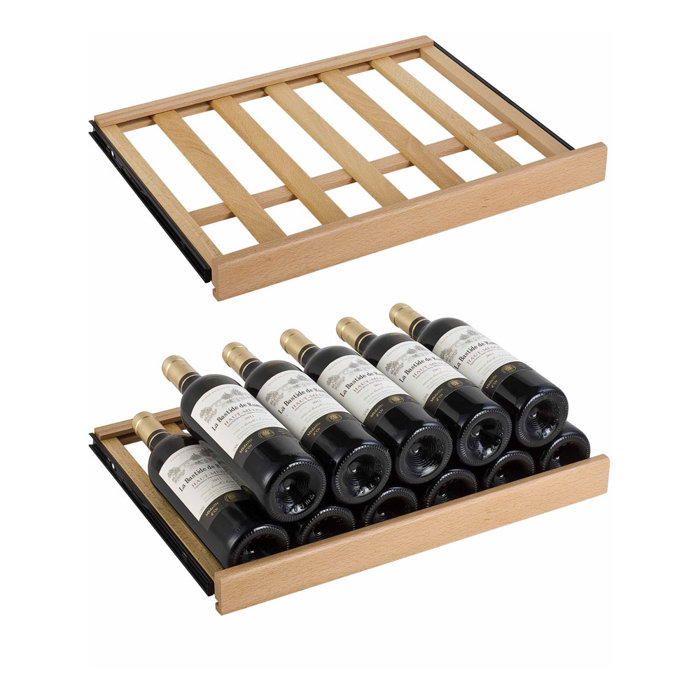 This is another Tru-Vino cooler but, this time, it's part of the Vite series! This large wine cooler can tuck away up to 99 bottles of wine, all of which can be stored at a constant temperature thanks to the cooling technology.
This cooler is a freestanding unit with dual cooling. Its upper zone ranges from 41ºF to 54ºF, with the lower zone ranging from 54ºF – 73ºF, with almost zero temperature fluctuations. The Tru-Vino tech also helps regulate the humidity in the Vite series, though there are no controls for this.
The shelving in this cooler is different from the FlexCount shelving, in the sense that the wooden slates in these racks are not adjustable per bottle. However, these racks can be adjusted and set at different heights, giving more allowance for thicker bottles. This cooler has eight shelves, four in each zone, all of which are designed to be very strong to be able to withstand stacking.
This comes in a black metal frame with a very chic and modern design and is a fantastic way to show off your wine collection while still protecting it. It also comes in a stainless steel finish, if that's what you're looking for.
This might be the one for you if it matches your collections estimated size in a few years. This is a big collection and, if you have around 60 or 70 bottles now with plans to grow it over the next few years, this might be your next wine cooler. These features help showcase the wine while doing a wonderful job at protecting it. Additionally, this doesn't operate with a distracting hum, making it easy to place in common areas.
Though it requires a sizable collection, if you have plans on going over a hundred bottles within the near future, there are other coolers for that. This isn't a light investment and planning with the future in mind is definitely something everyone should do.
Additionally, if you're looking for a built-in unit, this is definitely not it. This design wasn't made to handle tight spaces and other coolers might be better.
Pros
Tru-Vino Compressor Cooling
Adjustable and extra strong shelving
Dual-zone
Manual locking system
Clear digital display
UV-protected double pane glass door
Cons
Won't work well in hot surroundings
Cannot be a built-in
Not convinced? Try this!
Perhaps you might want to take a look at the less pricey Whynter BWR-1002SD Wine Refrigerator.
This single-zone compressor cooler can hold 100 bottles of wine. It can be installed as a built-in or as a freestanding unit, and comes with UV protection and a cylinder lock too! This cooler has 12 rolling shelves with the top shelf able to store standing wines as well. However, because this is a single-zone, this isn't a smart choice for wine aging.
Final Thoughts
We've laid out the five best Allavino wine coolers, with an alternative cooler for each item (because we want the best for you!), and want to tell you which one we feel is the overall champ in this line-up.
After looking at everything closely, the Allavino FlexCount II Tru-Vino VSWR56-1BR20 Wine Refrigerator is the best choice. This fridge is suitable for a wide variety of connoisseurs and can be used for many purposes. This design is easy to integrate into any home and is versatile in the kinds of wine it'll house.
But this was a tight race, and we saw that each cooler had its own sets of strengths for different kinds of wine lovers. The FlexCount Tru-Vino VSWR36-2BF20, which holds 36 bottles, is great for humble collections with a variety of reds and whites, while the FlexCount II Tru-Vino VSWR30-1SL20, with a capacity of 30 bottles, is great for humble collections that don't need more than a single-zone.
The Vite II Tru-Vino YHWR99-2SR20 Wine Refrigerator, with 99 bottles, is great for large collections that won't be growing exponentially anytime soon, while the FlexCount 2X-YHWR172-2SW Wine Refrigerator would be ideal for extra-large collections with highly specific temperature needs.
We've told you what we think and have given you all the tools you'll need to make the right decision. Now, the choice is yours!