Wine cooler research; it can be overwhelming with all the terms to learn and all the brands to explore. In your exploration, some names will keep popping up, NewAir being one of them. You might not know what NewAir is or how their fridges operate but, no worries, we've completed five NewAir wine cooler reviews to help you out.
| Product | Capacity | Cooling System | Zones | Installation |
| --- | --- | --- | --- | --- |
| | 18 bottles and 58 cans | Compressor | Dual | Built-in/ Freestanding |
| | 23 bottles | Compressor | Single | Freestanding |
| | 46 bottles | Compressor | Dual | Built-in/ Freestanding |
| | 50 bottles | Compressor | Single |  Freestanding |
| | 29 bottles | Compressor | Dual | Built-in/ Freestanding |
Get to Know NewAir
NewAir is a compact appliance company that started in a garage 15 years ago. Its mission is simple: "to be the most trusted name in compact appliances." From operating in a simple garage to now calling a large warehouse home, NewAir has certainly grown and is on its way to accomplishing its mission.
NewAir began by selling portable air conditioners and has since then been able to develop a huge variety of home appliances. NewAir has also become a top contender in the wine and beverage cooler world but you might be wondering, what made them so popular in the first place? The answer is simple.
The entire NewAir brand is focused on quality and variety. These two markers are showcased excellently in their wine and beverage cooler lines, with innovations in technology helping them take their wine coolers that one step further.
Their wine coolers can find its place in the homes of almost every wine collector and lover out there. This is thanks to their multitude of designs, sizes, and functions in each model. Especially for beginners or casual drinkers, they're likely to have something that could meet these needs to level up their entire wine experience.
Since they specialize in compact appliances, their coolers are best for smaller collection sizes. However, it should also be said that they've produced models that can take on some large collections. They have a large model that can house up to 160 bottles of wine, and also have a compact model which can hold up to 16 bottles.
No matter, NewAir wine coolers are made with style. Typically in stainless steel or black frame, these are designed to look modern and sleek. Form and function have found a happy balance in NewAir wine coolers but, of course, it wouldn't do to have a great looking cooler if it's going to be unpleasant to use.
This is why NewAir developed whisper-quiet cooling technology, which might be the best part of NewAir wine coolers. Most of their coolers run without making any noticeable sounds, making it easy to place in any common area without fear of disruption. It's generally better for the wine since less noise means fewer vibrations.
However, NewAir is not a perfect brand and it falls short most noticeably in its lack of larger coolers and in price as well. The lack of larger coolers means that serious wine collectors won't be able to find much storage space in current models.
The price is another possible issue, with its lowest-priced units valued at more than $200, making it an investment that not everyone can make. While these high-end products are definitely not at luxury prices, it's still substantial.
If at any point, you're feeling lost with all the technical terms you'll encounter on your journey, NewAir's site has a blog portion where you can learn all about any jargon that's flying above your head. This blog includes articles that may help answer any wine questions you might have.
This means that not only are they great wine cooler developers, they also have a rich platform full of facts and tidbits that can help you, with or without a NewAir wine cooler.
Your Guide to NewAir Wine Coolers
NewAir wine coolers are typically for smaller capacities, and great for those with collections up to 50 bottles. This is because NewAir specializes in compact appliances, resulting in smaller coolers. If you're looking for a single unit for your 60+ bottle collection, there might be more options in different brands.
Consider also that wine cooler capacities are based on standard 750 ml wine bottles, and that having a collection with thicker bottles will decrease its capacity. It's better to be generous with your capacity for some storage security and to have room to grow, Bigger is the safe option— but not too big!
With Wine Coolers, It's Also Good To Think About Noise Level
With any cooler noise, the usual culprit is the cooling system which can only be a compressor or a thermoelectric.
Compressor systems are the ones used in standard kitchen fridge cooling systems, only these have been refined for wine coolers. In a wine cooler, the compressor can take the temperatures down to a wine-healthy chill with fewer vibrations, since vibrations can ruin a wine's flavor. However, it tends to be noisy.
Thermoelectric systems are common too but, with wine coolers, these are known to run silently but are unable to maintain low temperatures. It also has a difficult time cooling down in warmer areas.
NewAir wine coolers are typically run by silent compressors, with their few thermoelectric models currently sold out.
Another Thing To Consider Are The Cooling Zones
Wine coolers can have one, two, or multiple zones to store specific types of wine in optimal temperatures. Single-zones are common but dual-zones allow you to be particular with wine temperatures. However, dual-zone coolers can also break down quicker if the unit isn't treated well.
One more factor is if the dual-zone has upper/lower or side by side zones. Upper/lower designs have a single door, meaning that to get one, you release the air of both zones. Side by side designs can have separate doors for each zone in an effort to lessen temperature fluctuations.
Installation Is Just As Important To Include In Your Decision
Wine coolers can be built into cabinetry or can stand alone in a room. The trick is to check where the ventilation is. If it's facing the front, that means the cooler can be a built-in. If the ventilation is at the back or the sides, this means it's a freestanding unit.
Design Is The Last Feature To Look At
Making sure that the cooler is built to match your intended room and has features that will further protect your wine is key. These can be in the door frames, the control panels, LED lighting, shelving, and double-pane glass windows too!
Some Of The Best Newair Wine Coolers To Check Out
1. NewAir AWB-360DB Wine and Beverage Refrigerator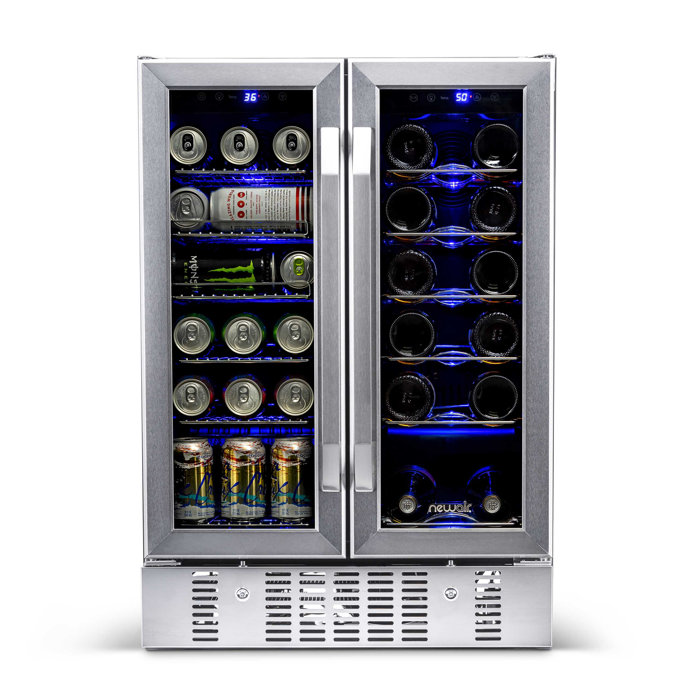 Pros:
Quiet compressor cooling
Wide temperature cooling range
Dual-zone cooling
Multi-functional
French doors
Integrated door lock
Can be built-in or freestanding
Adjustable racks
Cons:
Minimal wine cooling space
When the motor runs, it emits a low hum
The NewAir AWB-360DB Wine and Beverage Refrigerator is a dual-zone cooler that can hold up to 18 standard 750ml bottles of wine and up to 58 cans. This runs on a silent compressor and can be installed as a built-in or freestanding unit.
This silent compressor system has a wide temperature range, with its coldest temp at 36ºF and its warmest at 72ºF, on both zones. The cold temperatures will be great for cans and white wine, while the warmer temps are better for red wine. These temperatures can be very easily set using the standard digital thermostat and control panel.
These zones are side by side, where each zone has its own control panel, lights, shelves, and doors. The shelving per side is different but interchangeable if you so desire. The beverage zone has standard straight wire rack shelves, while the wine side has contoured wire racks. Each zone can be lit up with a cool blue LED light to help with visibility and display purposes.
The cooler comes in a classy French door style with a stainless steel frame and a triple pane glass window. This is particularly helpful with wine and beverage coolers since cans are more often taken than wine. Having two doors will lessen potential temperature fluctuations for the wine zone. The triple-pane window helps regulate temperatures too, answering even more wine preservation needs.
Its height would fit nicely under a counter or bar and, furthermore, your alcoholic items will be kept safe inside thanks to the integrated locks per door. It comes in a stylish stainless steel frame and has a very classic feel to it. This unit is fashionable but not flashy and will match well with most rooms.
However, some downsides to it are that the cooler can have a noticeable hum when the motor starts running. Additionally, this unit has limited space for wine even though it's a dual-zone cooler.
This might be the one for you if you're a casual wine drinker with a love for other beverages as well. Since it can only house 18 bottles, it's best for small collections. The beverage zone would also come in handy and help any hesitant small-collection wine lover get the most out of this investment. The lockable doors protect everything you put in there, and the wide temperature range helps you cool all kinds of beverages and wine.
2. NewAir NWC023SS00 Wine Refrigerator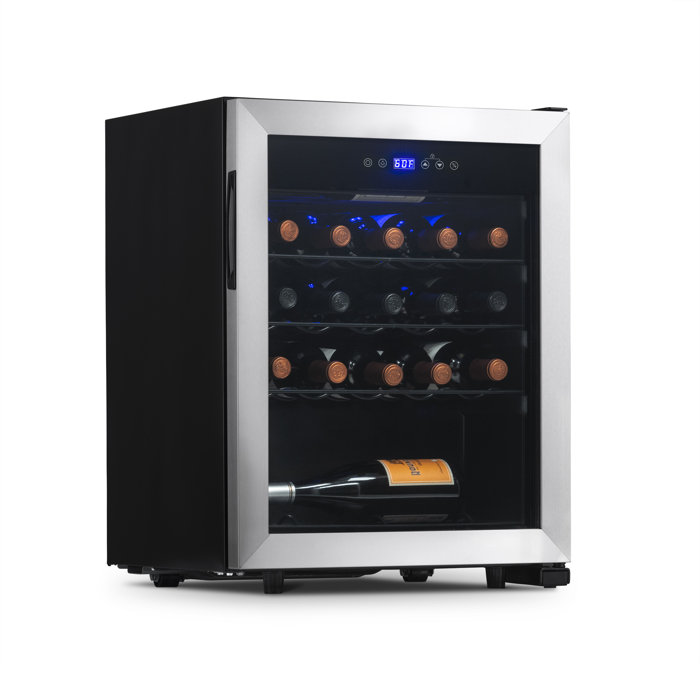 Pros:
Compact countertop cooler
Quiet compressor cooling
Auto-lock in external temperature controls
Good for long-term storage
UV-protected double pane glass insulation
Versatile cooler functions
Adjustable shelves
Cons:
No-door lock
Can not be a built-in
The NewAir NCW023SS00 Wine Refrigerator is a single-zone compact countertop cooler with a 23 bottle capacity and an unnoticeable cooling system.
This cooler has a temperature range of 41ºF – 56ºF, which allows for a lot of variety in the kinds of wine it can store. With its compressor, this unit can run at a constant temperature without making any noise. Along with its compact size, this would be easy to place on kitchen counters, in an office, or by a living room table.
Unlike most other units, the control panel and thermostat for this is outside the cooler rather than within the door. To avoid any unnecessary fiddling by little ones, the temperature automatically locks into that temperature.
This has four contoured wire racks, with a bigger allowance space on the bottom row for wider-based bottles that need to be stored. These racks can also be adjusted and removed to make more space but this will greatly decrease its available capacity.
It comes in a stainless steel frame door with a double pane glass window for UV protection and temperature regulation. To see inside the cooler, there's a built-in LED light as well, which adds to its chic feel.
The way this whole unit is designed optimizes wine storage conditions for long-term and short-term storage since this cooler has fewer vibrations, consistently cool temperatures, and UV light protection. All this is in one compact wine cooler that can sit comfortably anywhere indoors.
Unfortunately, nothing in the world is perfect. This unit does not come with an integrated door lock, meaning that anyone can get into your wine collection. Additionally, it's small but can't be installed as a built-in since the cooling ventilation is at the back of the unit. These can be addressed by keeping it in a secured room instead, and by finding an appropriate place for it in this room.
Lastly, having only one zone means less opportunity for wine varieties. Reds and whites have different optimal cooling temperatures, which is why dual-zones are so popular. However, if you have no problem chilling your reds and whites together at white wine storage temps and just leaving out your reds to warm up a bit when you're about to drink it, then this is no problem.
This would be great for you if you're a beginner wine collector since the compact size and more affordable price allows you the benefits of wine coolers without having to commit to it too much. Having this as a starter cooler would be a smart investment and, if it turns out wine collecting isn't for you, this could easily be used and converted into a beverage fridge instead.
3. NewAir AWR-460DB Wine Refrigerator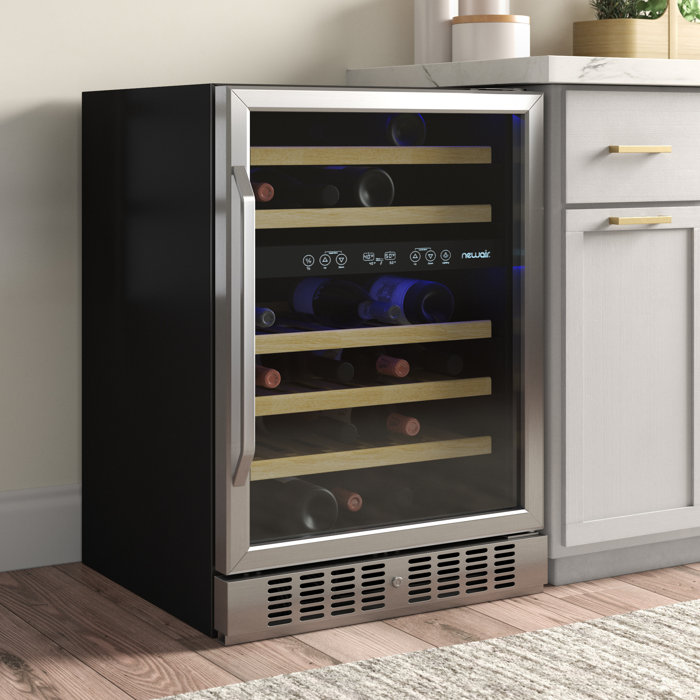 Pros:
Quiet compressor cooling
Dual-zone
Can be built-in or freestanding.
Integrated door lock
Easy to use control panel
UV-protected triple-pane glass insulation
Adjustable shelves
Comes in black
Cons:
Only one door
Less space for whites as compared to reds
Insufficient space for thicker bottles
The NewAir AWR-460DB Wine Refrigerator is a dual-zone freestanding or built-in cooler with room enough for a 46 bottle collection.
Like the previous ones on this list, this unit has a compressor cooling system that runs efficiently and silently. The two zones in this have an upper/lower design, with each zone able to hold different capacities. The upper zone can house 14 bottles of wine, with temperatures ranging from 40ºF – 55ºF. This zone is ideal for whites while the lower zone is better for reds, with a temperature ranging 50ºF – 66ºF and able to hold 32 bottles of wine.
These temperatures can be set using the soft-touch control panel on the partition between each zone, with an LCD display as well. Each zone comes with its own soft blue LED light, and with adjustable shelves that can be removed to make more room. Unfortunately, this will lessen its capacity.
The shelving in this design is also quite different. Rather than having wire rack shelving, this has wooden shelves with slates. This design is both classy and clever since the holes between each slat allow for more circulation in each zone. Additionally, these racks will be able to comfortably hold bigger bottles but the clearance between each row might not be big enough to fit thicker bottles, even if the racks can hold it comfortably.
This has a stainless steel door with a triple pane glass window and a door lock, which helps prevent temperature fluctuations, UV light, and uninvited wine drinkers. Luckily, if black is more your style, they have a sleek black version tool, under the product code NewAir NWC046BS00. It has the exact same characteristics, with only the colors differing.
This might be your next wine cooler if you adore red wine but crave white wine every now and then. This cooler has great space for bigger wine collections, with some room for whites or other kinds of wine that need to be chilled.
However, there are two very obvious shortcomings in this unit. First is that it only has one door, even if it is reversible. It also has uneven capacities for each zone. In this cooler, there's a bigger space for red wine rather than for whites, and while reds are great, some people love both equally, or maybe even love whites more. If you relate to those, this might be a wine cooler that's better to pass on.
4. NewAir NWC050SS00 Wine Refrigerator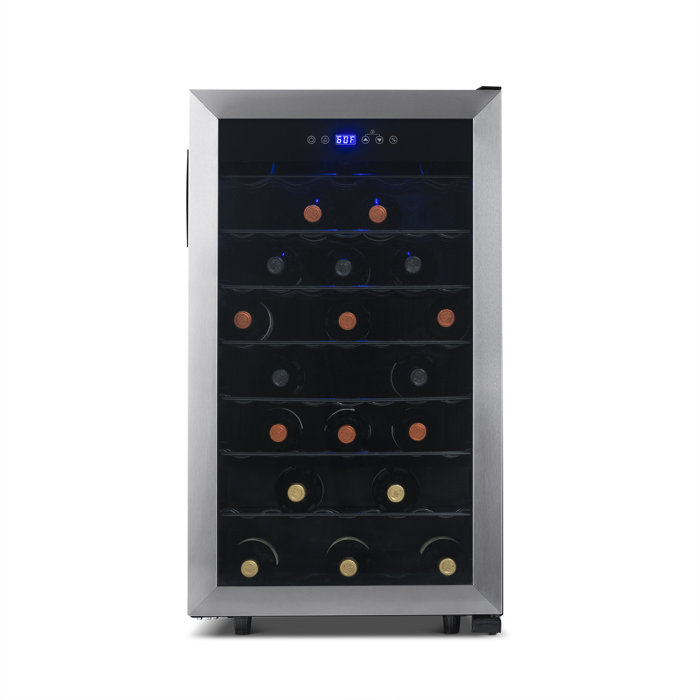 Pros:
Compact cooler
Quiet compressor cooling
Stable temperatures
Quick chilling
Auto-lock in external temperature controls
Touchscreen control panel
UV-protected double pane glass insulation
Versatile cooler functions
Adjustable shelves
Cons:
No-door lock
Single-zone cooler
Can not be a built-in
Next on our list is the NewAir NWC050SS00 Wine Refrigerator, also known as the 50 bottle single-zone freestanding cooler with compressor technology.
As a cooler with a considerable capacity, it's both compact and roomy. This is achieved because the shelving in this model has wide spaces and makes a lot of room for the bottles.
While it's compact, it's not a countertop cooler since it's around the size of a standard mini fridge but is not bulky or intrusive in its design. Its size, along with the signature silent compressor cooling system, allows it to be easily placed in any room without being disruptive in any way.
This is a single-zone cooler that can go as low as 40ºF and as warm as 64ºF, making it versatile for all kinds of wines. To maintain this temperature, there's also an internal cooling fan to help the air circulate. This consistent cooling is a huge advantage, and the temperature lock on the touchscreen control panel guarantees that no visitors or children can fiddle with this temperature.
The wine will be placed on seven black contoured wire racks which can be adjusted and removed to make way for bigger bottles. Luckily, these racks were designed to fit some of the thicker bottles but the allowance between each rack might still be insufficient.
Design-wise, it's a sophisticated cooler with a stainless steel frame door and a tinted window to keep out harmful UV rays. It also has a recessed handle, adding to the sleek feel of it and making it look less like a kitchen appliance. However, this doesn't come with a door lock and cannot be used as a built-in.
This is great for you if you have a growing collection since it's always better to be generous with capacity. It's a very unobtrusive and reliable wine cooler and is a healthy investment for this passion. It's designed with a lot of room inside, which is ideal for collectors who are into variety.
This might also be great for you if you have a dedicated collection for reds or whites only. Having this for your exclusive collection is great for wine preservation, storage, and even for wine aging. The lack of vibrations and UV protection might serve your wine well.
However, if you live with minors or with people you're not exactly comfortable sharing your collection with, a different cooler might be better since this has no lock. The single-zone might also be a downside if you're particular about the different recommended cooling temperatures for reds and whites.
5. NewAir AWR-290DB Wine Refrigerator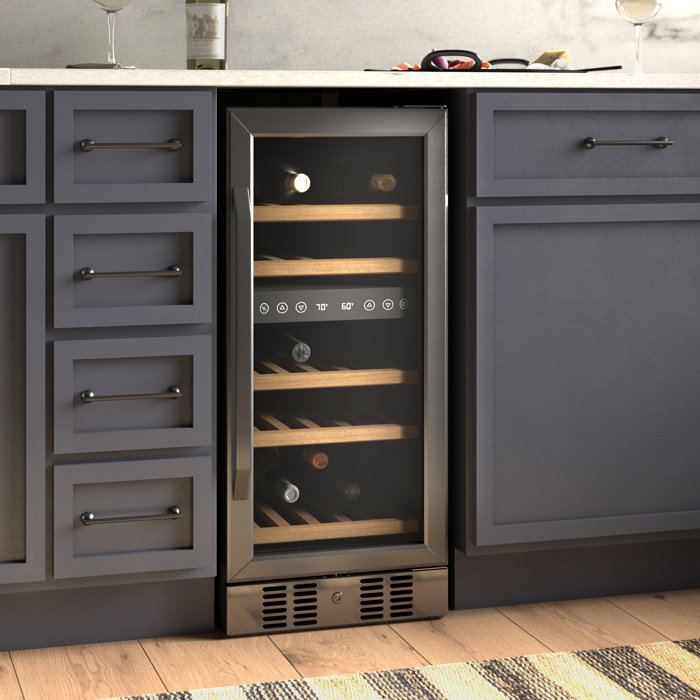 Pros:
Sturdy compact cooler
Quiet compressor cooling
Dual-zone
Can be built-in or freestanding.
Integrated door lock
Has added humidity control
UV-protected double pane glass insulation
Adjustable beechwood shelves
Fits easily in trash compartments
Cons:
Single door
Tight shelving
Less room for whites
The NewAir AWR-290DB Wine Refrigerator is a compact dual-zone wine cooler that can hold 29 bottles as either a built-in or as a freestanding unit.
Like all the others on this list, this uses a very quiet compressor cooling system. The upper zone reaches anywhere from 40ºF to 55ºF, while the lower zone reaches somewhere between 50ºF to 66ºF. To help with humidity controls, there is also an included plastic water tub.
You can set your temperatures with their easy-to-use touchscreen control panel. Again, each zone holds a different number of wine bottles, with less room for the whites on top. The upper zone can hold 12 standard 750 ml wine bottles, while the lower zone can hold 17 bottles of wine.
The wine is lit up by a blue LED light and is stored on beechwood shelving that can be a tight fit. It's designed to hold the standard wine bottle size but not all wine comes in that size. Storing larger bottles will definitely minimize its capacity and, in some cases, a rack needs to be removed in order to fit the bottles.
Since this is an upper/lower dual-zone cooler, it only has a single door. This is a lockable stainless steel door with a tinted double-pane glass window for additional UV protection.
Overall, this is an extremely elegant wine cooler that can fantastically display your collection while still protecting and preserving your wine. The lack of sound and vibrations is good for both you and your wine, while the size makes it easy to fit in a trash compartment under your kitchen counters.
This might be amazing for you if you're looking for a compact cooler for your growing collection. This has a great size with awesome features, and the dual cooling and door protections help give your wine lots of care and protection.
This might also be the one for you if you have a larger collection and are looking for a smaller cooler to store wine separately. This would be a great way to store wine that's still aging or to differentiate your wine that's ready for drinking.
However, if your collection consists of thicker wine bottles or has a lot of variety, this might be something to pass on. Also, if you like white wine more than red, this might be a cause of stress for you rather than of joy.
Final Thoughts
Now that you've read through the top five NewAir wine cooler reviews, you hopefully have a better idea of what's better for you. In case you need some help, here's our final verdict on which one is the best wine cooler.
The one that can benefit the most people is the NewAir AWR-290DB, which is the 29 bottle dual-zone cooler. While the door and shelving situation isn't the best, this cooler has a lot of use for many people. The capacity is a great size for small collections and for reserve collections as well, while the humidity control does great things for wine preservation too.
Owning a larger collection but one that's not yet big enough to warrant a reserve cooler, then maybe the NewAir AWR-460DB cooler will be a better fit for you, with its dual-zone cooling and 46 bottle capacity. If you're looking for something compact, the NewAir NCW023SS00 23 bottle single-zone cooler would be a great deal.
If you're a casual wine lover and a lover of beverages, the NewAir AWB-360DB 18 bottle and 58 can wine and beverage cooler is our obvious recommendation, while the NewAir NWC050SS00 50 bottle single-zone cooler could be great for beginner collectors.
Overall, NewAir is a solid brand with quality wine coolers. It's best for starter collectors with small wine hoards because most of its models are so compact. Their large wine coolers do a great job but the strength and durability truly shine in their smaller models.
Well, that's our NewAir wine cooler review! We hope this helped you out on your wine cooler adventures and that you'll be able to heighten your entire experience as you move forward.
Related Articles